Justin P. Wilson Cumberland Trail
Take an astounding walking-touring across frontier American heartland along Tennessee's first linear state park.
When finished, the Cumberland Trail will provide an epic, meandering exploration of resilient human history and rugged wildland habitats stretched amidst a vast mountainous strip of Southern Appalachian hinterland.
More than 240 miles are presently complete, and the trail will exceed 300 miles when all its sections are connected.
An indomitable wilderness spirit prevails endlessly along the Cumberland Plateau's immense, elevated span of jagged cliffs, stone shelves, sheer crags, cascading water and primeval woodlands.
This timeless tableland feels eternally untamable. It beckons you to come bear witness to a landscape beset with uncompromising resilience.
The plateau has stood throughout history as a formidable barrier to human travel and trade, even as it attracted great onslaughts of resource-extraction. But a staggering magnitude of dazzling plateau vistas and spellbinding horizons have resisted the creep of industrial development and urbanization -- in many places as if it never happened.
Like the people who've traversed and lived upon the plateau, its forests have time and again overcome cataclysmic disruptions and steep odds, and today's plateau has regenerated considerably from the raw industrial age. Eastern pine and diverse hardwood forests have in many places healed scarred and lacerated landscapes quite nicely and -- in geologic terms, at least -- quite quickly.
The human history of the Cumberland Plateau is reflective of the landscape's dynamism and perseverance. It is a history filled with tragedy and triumph, folly and fortune-making. From native times through pioneer days and up to the present age, people have lived and thrived on the Cumberland plateau, even as life has posed unremitting challenges and struggle.
The plateau's rough contours date back half a billion years -- which, from our standpoint, might as well be forever. It could effortlessly withstand earthshaking events capable of extinguishing mankind's very existence.
"Stretching across eastern Tennessee from Alabama north into Kentucky, the Cumberland Plateau rises more than 1,000 feet above the Tennessee River Valley to a vast tableland of sandstone and shale dating as far back as 500 million years," apprises the Nature Conservancy, which has for decades been instrumental in setting aside plateau land for habitat preservation and public recreation access.
The Cumberland Plateau was here before the dawn of human existence and it'll likely stand long after we've taken leave of this planet, en route to the stars or existential oblivion.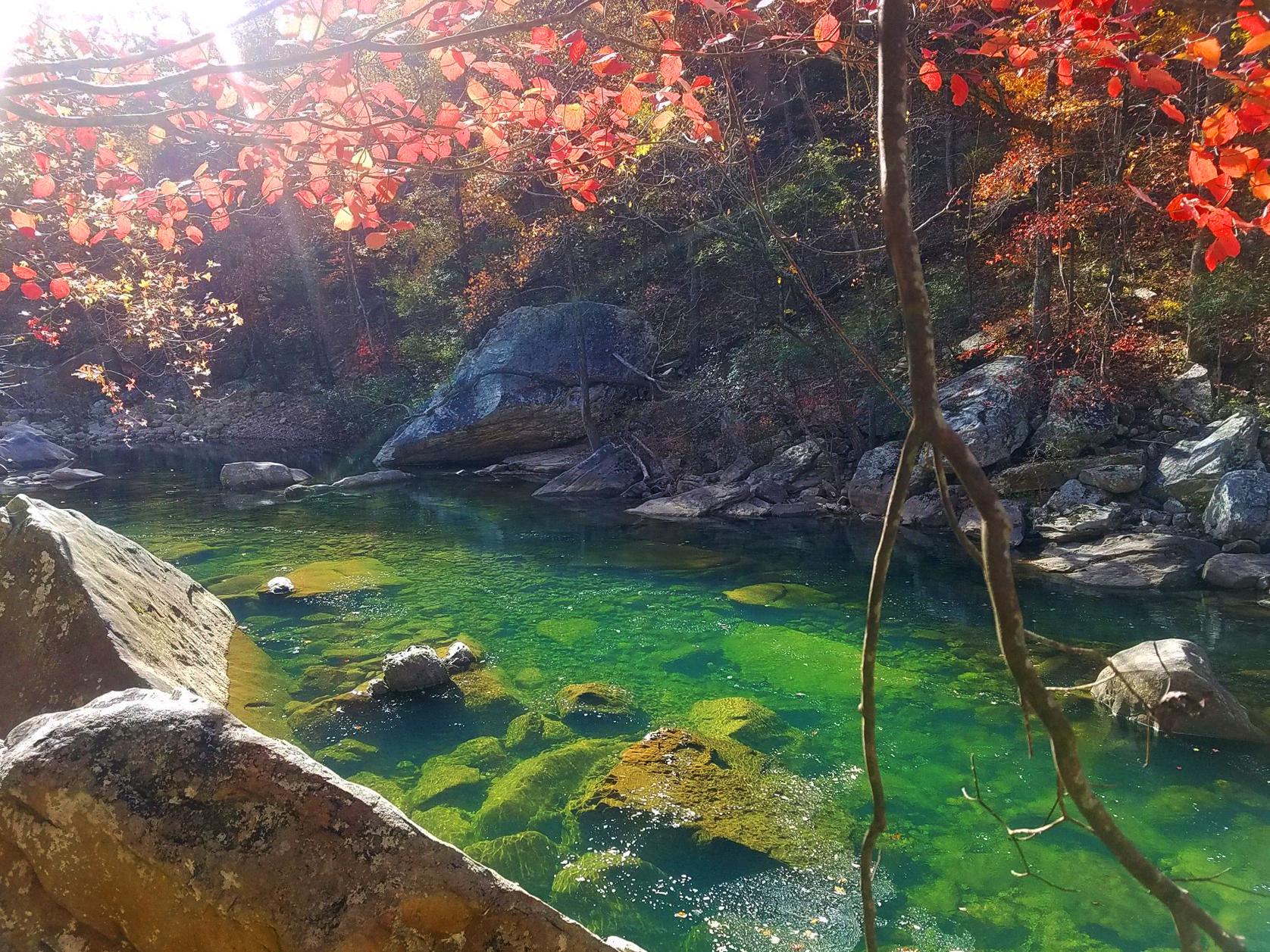 Not Your Average Walk in a Park
One fascinating aspect of the unique and ever-evolving Cumberland Trail State Park is that it doesn't follow any historical route taken by peoples of a previous age. It doesn't conform or confine itself to any historic pioneer trace or indegenous tribal migration corridor.
"When completed, the trail will extend more than 300 miles from its northern terminus in Cumberland Gap National Historical Park in Kentucky to its southern terminus at the Chickamauga-Chattanooga National Military Park located on Signal Mountain just outside Chattanooga, Tennessee," relates the website of the Cumberland Trails Conference, which maintains an invaluable interactive trail map to give hikers the most up-to-date information on current trail progress, conditions and maintenance closures.
The Land Trust for Tennessee, a key organization working to expand the trail and preserve the plateau's singular beauty, advertises: "As the first linear state park in Tennessee, the Justin P. Wilson Cumberland Trail State Park offers sweeping vistas and enjoyable hikes and is home to important habitat along the Cumberland Plateau's pristine ridges and deep gorges."
The linear park's rangers, volunteers and advocacy groups like the Friends of the Cumberland Trail and the Cumberland Trails Conference are pursuing an "ambitious hiking trail project." They believe it is destined to earn recognition as one of the grandest long-distance hikes in the United States.
Given that the Cumberland shelf is lined with some of the most astounding rock formations in North America -- and boasts a momentous human history and cultural landmarks dating back millennia -- that doesn't seem an altogether unlikely eventuality.
Innumerable vantages along the plateau rival landforms anywhere on the continent for inspiring primal awe. Desolate deciduous oceans and rolling seas of piney plains float unyieldingly off into unencumbered horizons. The Cumberland's erratic realms are incessantly surging with serene power, capable of animating fathomless waves of wonderment and appreciation in the most casual observer. For the benefit of future generations of fervent hiking enthusiasts, the ultimate course of the Cumberland Trail's conservation roadmap is to forever preserve a contiguous swath of the platueau's powerful natural magic.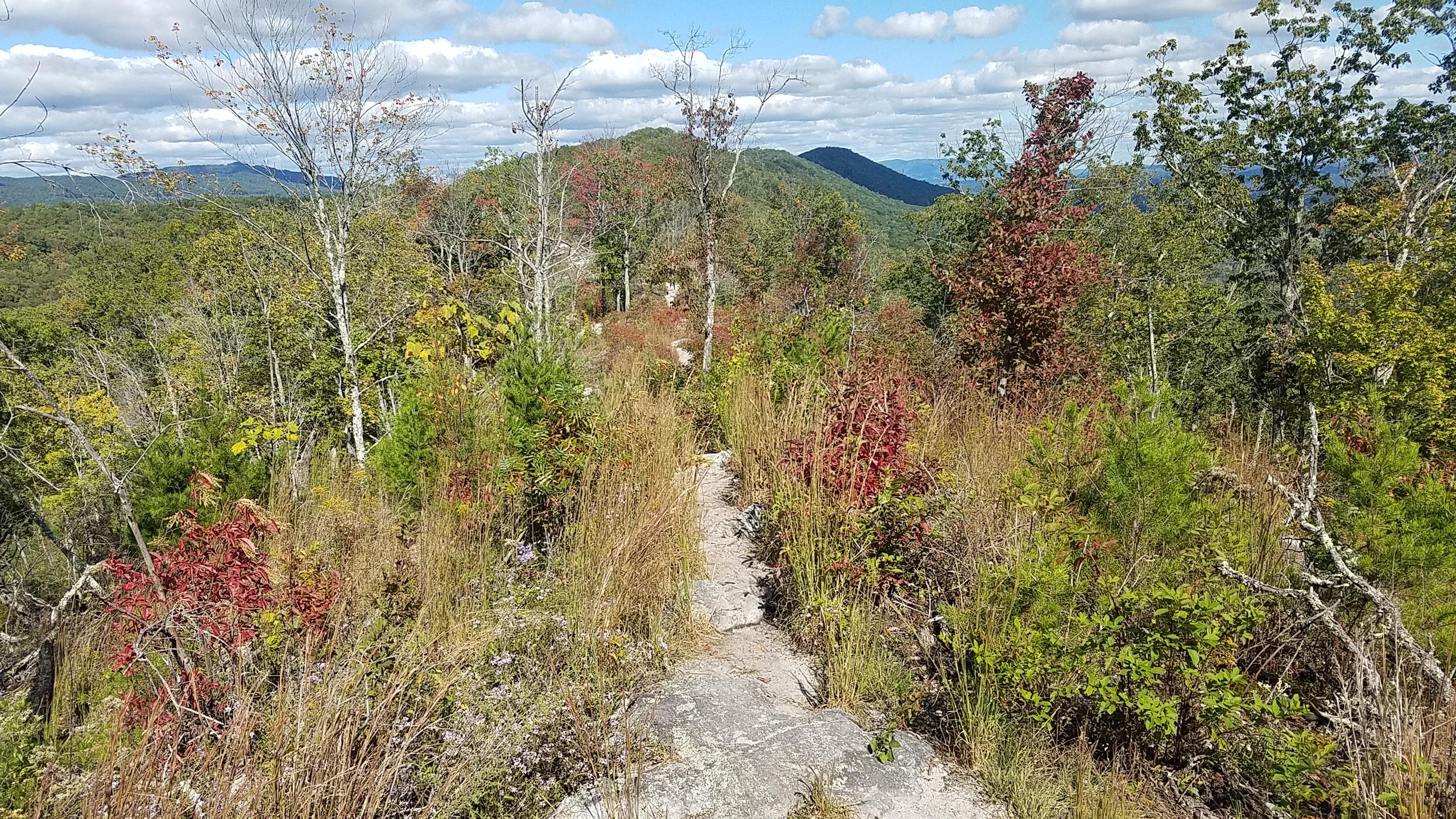 Trail With a Long Tale
Nobody has likely been around the Cumberland Trail longer on a day-to-day basis the past two decades than Robert Fulcher. A legendary and indispensable Tennessee cultural resource in his own right, Fulcher has spent a career helping conserve scenic Tennessee public lands and expand outdoor recreation resources, all the while illuminating and endeavoring to preserve cherished Appalachian folklore, history, traditions and music.
Since the beginning of the 21st Century, Fulcher has been managing the Cumberland Trail State Park. Over that span of time he's encouraged great strides forward on a project that, since it was launched in the late 1960s, has seemingly seen as many ups and downs as the trail itself.
Recounting the exhaustive political, financial, philanthropic and logistical history of blazing and building the Cumberland Trail's 300 miles would likely take 300 hours to do it any justice, Fulcher has remarked. "If we could find anybody to listen to us that long, we would be really thrilled," he said.
Anyone seeking a shorter overview of the trail's developmental history -- more in the neighborhood of 30 minutes than 300 hours -- should make a point of obtaining the WBIR-TV Heartland Series installment examining the half-century long effort.
"No Native American or pioneer ever took this entire route, but it does follow the footsteps of history." the video's summary blurb on WBIR's website attests.
"The story of building the Cumberland Trail is a story of vision, excitement, frustration, renewed hope and ultimately the dedication to see it through — all played out on a ruggedly beautiful landscape," Bill Landry, the series producer and creator, narrates on the video. Like most episodes of the quarter-century running series focusing on Southern Appalachian culture and lifestyle, Heartland's Cumberland Plateau mini-documentary is a superb work of historical preservation and heritage protection in its own right.
Despite the Cumberland Plateau's stunning prehistoric splendor, industrial concerns trumped appreciation for natural aesthetics in the nation's economic realm for much of America's history. "Up until the middle of the 20th Century, there wasn't much money made from beautiful scenery," Landry said. "On the Cumberland Plateau, money came from harvesting timber and mining minerals."
Fulcher believes that ultimately the Cumberland Trail's most sublime and meaningful feature will be its ability to inspire people -- a power that will only grow as more and more people discover the trail and the plateau.
"I think that's its greatest benefit," he said. You can listen to Bobby Fulcher expound at length about the Cumberland Trail, its scenery, geology, topography, recreation potential, heritage, fascinating past and promising future as world-class thru-hike during an instructive, entertaining 3-part discussion from 2019 on the Chattanooga-based Day Fire Podcast (Part 1, Part 2, Part 3).
Planning a Path Forward
Here's an account of how the earliest "friends of the plateau" ventured to hatch the trail-building vision from a 2007 article in Cumberland County's Crossville Chronicle:
(Bob) Brown had been hiking with Mack Prichard, a founder of the Tennessee Trails Association and state naturalist, and had complained of having to travel from Nashville to the Smoky Mountains to hike the Appalachian Trail. Prichard reportedly told Brown to visit the Cumberland Plateau. Arthur Harrison showed Brown (who was treasurer of the Tennessee Scenic Rivers Association at the time) many of Cumberland County's natural treasures, including Peavine, Hebbertsburg, the Obed Canyon and Brady Mountain.

When the idea of the Cumberland Trail was born, Harrison said he believed they envisioned a trail similar to the Appalachian Trail, and Arthur Harrison told the Tennessee Trails group he knew where the trail could go.
In 2021, Gov. Bill Lee designated March 31 as Mack S. Prichard Day in honor of his roles as state archeologist and Tennessee's first state naturalist, and to memorialize his tireless efforts to identify and set aside land for historic preservation and public recreation.
Prichard, who died at the age of 81 in April 2020, "worked to conserve Tennessee's landscape and was instrumental in the acquisition of more than 40 sites for Tennessee State Parks, natural areas and archeological areas," a press release from the governor's office recalled.
For a thorough rendering of the Cumberland Trail's genesis years, take a look at the article by Evan W. Means, one of the trail's founders, on the Friends of the Cumberland Trail website. Reprinted from the 1975 Tennessee Department of Conservation's "Guide to the Tennessee Trails Program," the article presents "important insight into the origins of the Cumberland Trail State Scenic Trail," according to an introductory editorial note.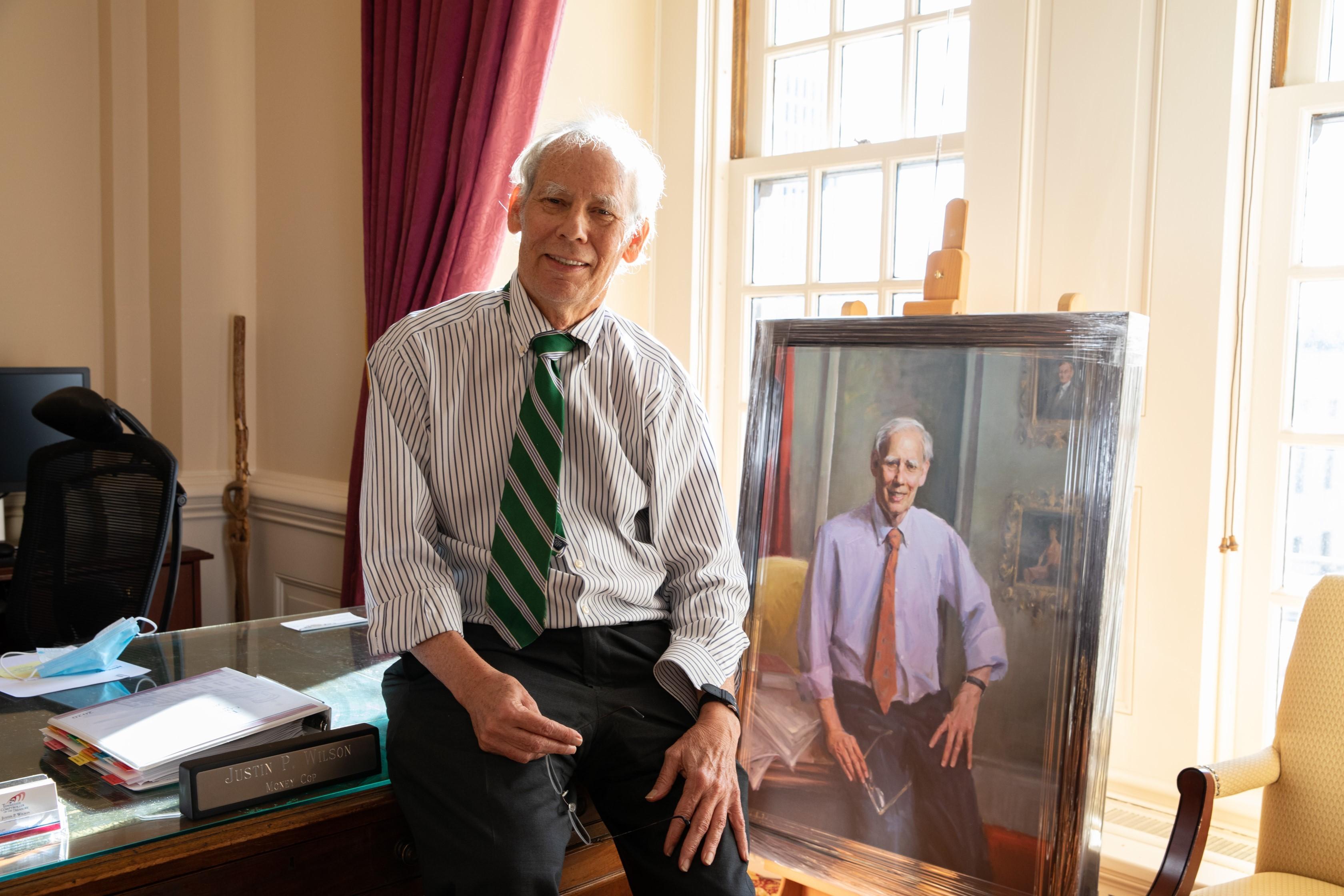 Wilson Works Political Wonders
The project made great progress over its first two-and-a-half decades. However, owing to diminished funding and unfocused leadership, it began to languish in the middle and late 1990s.
To the rescue then came a crusading Tennessee conservationist named Justin P. Wilson.
As a top aide to the governor, Wilson was well positioned to make a difference. He made it a personal mission to resurrect and prominently reprioritize the Cumberland Trail project.
He argued that building the trail was of imperative public interest -- important not just for preserving extraordinary landscapes and vital Tennessee cultural heritage, but as a critical infrastructure investment to boost much-needed tourism for areas often overlooked because they lack population density, media visibility and political clout. Wilson was instrumental in bringing park management under the state's umbrella in a robust role.
He described the linear state park as "a once-in-history opportunity to link natural areas, provide a scenic corridor for hikers, habitat for wildlife, and an economic and tourism engine for rural communities."
Owing to his efforts, in 2002 Gov. Don Sundquist formally dedicated the Cumberland Trail in Wilson's honor. "We all owe him our thanks for supporting volunteers and creating this magnificent state park," the governor said.
Wilson would go on to maintain a prominent profile in Volunteer State politics for the better part of thirty years, retiring in 2021 from his long-serving role as Tennessee's comptroller of the state treasury.
In March 2021, the Tennessee General Assembly officially commemorated Wilson's efforts and advocacy for the Cumberland Trail, and a portrait of Wilson was unveiled during a ceremony attended by the governor and key lawmakers at Cumberland Mountain State Park. The painting was done by renowned artist Michael Shane Neal, who has been commissioned to render such notable figures as United States Supreme Court Justice Sandra Day O'Conner, former President George H.W. Bush and Oscar-winning actor Morgan Freeman. Once the Cumberland Trail is complete, the portrait will be moved to the park's headquarters.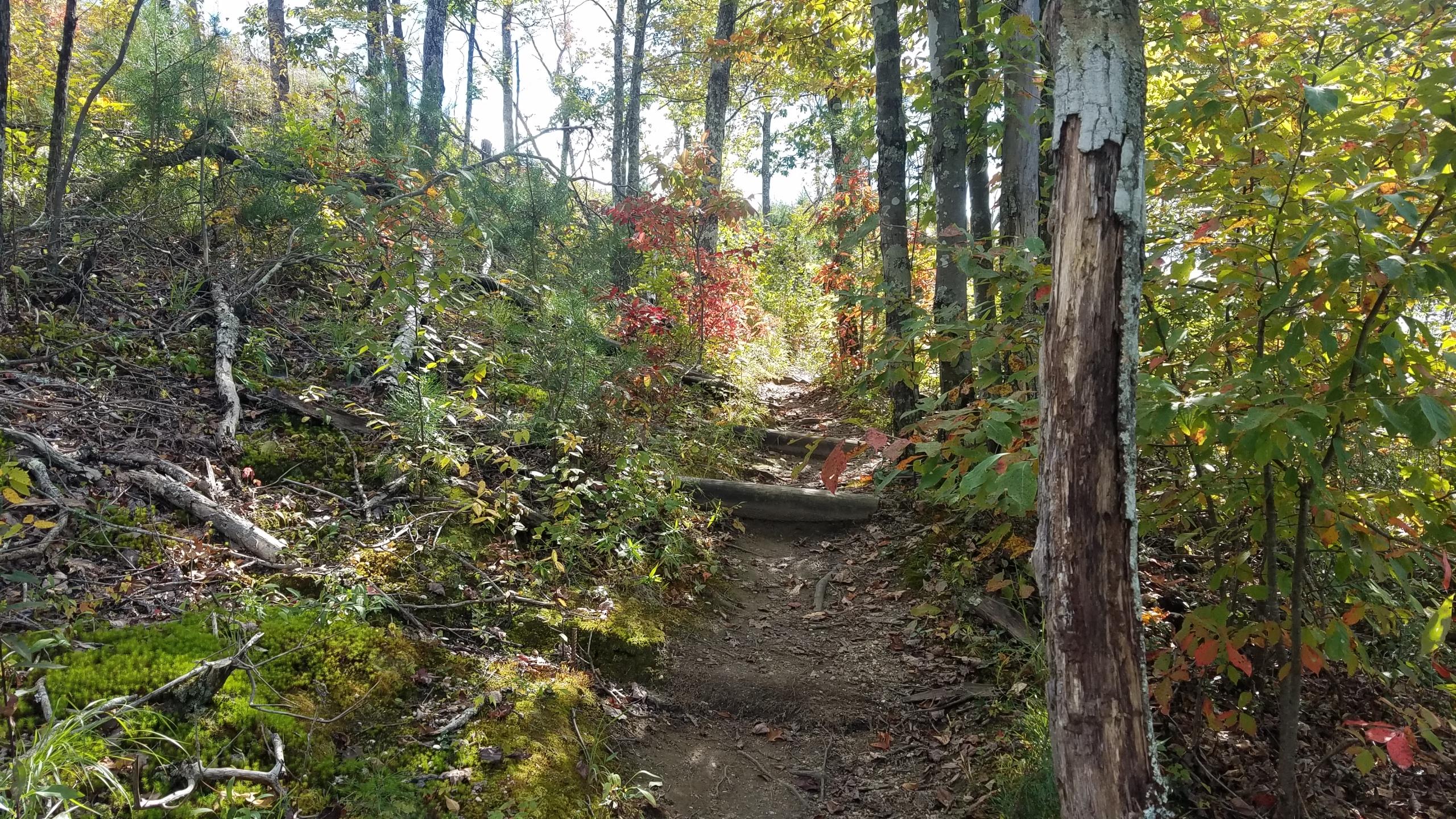 Long & Short of It
Like much of the Appalachian mountain chain, the Cumberland Plateau is isolated and sparsely populated. The lack of people on the plateau is one of the things that makes it special -- it promises quick escape from modern human habitation.
"As far as I'm aware, we're the only project like ours going on in the country," said Ranger Anthony Jones, assistant supervisor for CTSP and a chief trail designer. "There are not many long-distance trails in the process of being built or designed right now."
The Cumberland Plateau is also the last area of "wilderness" in Tennessee where a project like it is even feasible, Jones asserts.
When ready for through-hike expeditions, the Cumberland Trail will serve as praiseworthy counterpart to the 323-mile Sheltowee Trace in Kentucky and the Pinhoti Trail, which cuts 335 miles through northeast Alabama and northwest Georgia, or the 290-mile Benton MacKaye Trail connecting North Georgia and Smoky Mountain National Park as a western alternate to the Appalachian Trail.
A trail in the 300-mile range generally tends to be "long enough to be a life changing experience without being so long that you have to give up your existing life to hike it," contends Jim Rahtz of The Trek.
How long will a thru-hike take? Generally, 4-6 weeks would be a good baseline estimate. Bear in mind, the Cumberland Trail is no cakewalk, said Ranger Jones. The time investment for each backpacker will vary considerably based on an individual's skill-level as well as seasonal trail conditions and weather patterns, he said.
"It'll obviously depend a lot on the hikers and depend on the time of year," said Jones. "For a great hiker, they're going to be able to do the whole section in maybe a month or so. For others, maybe a couple months."
And like the other mid-range trails in the Southeast, the Cumberland Trail may serve as metal-proving ground for the 2,190-mile Appalachian Trail, which takes 5-7 months and is completed by only about one of every four hikers that start it.
"People who think about hiking the AT, and are unsure whether they can complete it, may want to come to the Cumberland Trail and hike it first," Jones said.
The CT will be a place for aspiring serious hikers to "test their merit," he said.
But nobody who's explored it in earnest is going to think of the CT as merely "a little brother trail" to the AT, or just a "practice hike," Jones added. "A lot of people are going to hike the CT because it is here, because it is beautiful and because everything you can experience on the Cumberland Plateau is incredible. It is mind-boggling, quite honestly."
Because the trail has been designed from scratch and is charting an altogether novel passageway, it is a pioneering expedition in its own right. The CT offers views and vantage points that few in history have savored.
"There are bluffs and cliffs by the trail that maybe only ten people had ever seen since the woodland Indians from the Missippian were here searching for flint for making their arrows," Jones said. "If we buy a tract of land that is remote and rugged, it is like a blank sheet of paper. We will draw out on a topo map where we think the best place for the trail to go would be, and then we go in there."
"We are going to expose that for people, and we hope they appreciate it," he went on. "Those are the fulfilling things for me — helping protect these resources and reconnect and reintroduce people with nature. That's my favorite part. That's what I get excited about when I get up in the morning -- knowing that I'm leaving something behind that'll be here long after I am gone."
Amenities
Glorious Day Hikes Galore
Even though thru-hiking the entire CT isn't yet an option, no shortage of stellar shorter treks are open along its corridor -- many of them destination wandering spots in their own right.
Choosing a "best" day hike or favorite overnight outing along the Cumberland Trail is no easy task.
"I get asked that all the time — and it is really difficult for me to say," said Ranger Jones.
The Cumberland Trail is continually opening up ever more fantastic plateau rock formations, water features and forest walks to public access, said Jones.
The open portions of the trail intersect with seven state natural areas and is served by 35 auto-accessible designated trailheads. That makes for a lot of access to a lot of premier trails.
Jones won't pick a favorite, but some places stand out.
In Scott County, the plateau's horizon profile "resembles the Smokies." The region probably would've seen more recreational development decades ago, he said, "had the right people found it before the mining operations and logging operations."
"I'm telling you, that country up there is wild and big and beautiful," Jones said of the awesome and arduous 40-mile amble from Frozen Head State Park -- home of the devilishly grueling Barkley ultramarathon -- to the wickedly steep boulder-strewn run up Devil's Racetrack near the park's headquarters in Caryville, Campbell County.
Commencing Trail Commerce
In the coronavirus pandemic year of 2020, Tennessee's state parks rang up a level of visitation that was startlingly impressive by previous standards. State parks stimulated close to two billion dollars worth of incoming economic activity, according to one study conducted by a Texas-based economic consultant firm.
Tennessee's Department of Environment and Conservation touted the study as proof that state parks "are not only a great way for Tennesseans to get outdoors but are a significant driver of a healthy Tennessee economy as well."
"Our state parks are a great source of pride for Tennesseans, and they have proven more important than ever during this challenging year," said Governor Bill Lee. "These important Tennessee treasures provide substantial economic activity in communities across our state, and we are grateful for the way they continue to prosper."
The Cumberland Trail State Park is likely to boost much-needed buying-and-spending activity in small towns and rural counties along the rambling picturesque passageway.
"It will have an economic impact up and down its corridor, throughout the communities," said park manager Fulcher.
Trail Town & Tourist Trade Route
Many counties along the Cumberland Plateau are, like much of rural Appalachia, economically distressed. They stand to benefit greatly from the additional visitation that the CT will encourage.
Crossville and Dayton are the two largest plateau-oriented population centers, and both have already built reputations as destination jumping-off points for recreationists who want to immerse themselves in the regional wildlands. Both offer quick access to some of the Cumberland Trail's premier attractions -- Black Mountain in Cumberland County and Laurel-Snow Natural Area in Rhea County.
Another town particularly excited about the CT is Wartburg in Morgan County, located about a half-hour's drive north of I-40's Exit 347. Only about an hour's drive from Knoxville and roughly two-and-a-half hours from Nashville, Wartburg is already something of a recreation go-to spot for outdoor enthusiasts in the know, and local civic leaders and business-owners are already capitalizing on existing regional attractions and are eager to embrace the "trail town" label.
Situated as it is, "kind of wedged in between the Cumberland Plateau and Appalachian foothills," Wartburg offers quick access to imminent adventure whichever way you want to head out of town, said Pam Gunter, a retired Oak Ridge National Laboratories computer-systems specialist who now beams her energies into promotional efforts for the Morgan County Tourism Alliance.
"I can leave here and go any direction and it's pretty much uphill whichever way I go," she said. "If you are somebody who likes getting outside and enjoying nature, then you should definitely come visit Morgan County and see what we have to offer."
Morgan County's most prominent attractions are two National Park Service-managed river recreation zones -- the Big South Fork and the Obed -- and also a wild-n-woolly state park (Frozen Head) and the state's premier wildlife management area set aside for big game hunting (Catoosa).
In 1938, 37 prisoners from Brushy Mountain Prison in Tennessee escaped from a mine on Frozen Head Mountain and spilled out onto the Barkley Marathons course. #BM100
Read/Listen/Watch what happened to them: https://t.co/lvEsp6WO1b pic.twitter.com/xw6I4d1lEJ

— UltraRunningHistory (@UltraRunningHis) March 19, 2021
When the Cumberland Trail is complete, it'll run right through downtown Wartburg, connecting and showcasing some of the northern Tennessee plateau's most prominent outdoor recreational attractions, cultural landmarks and wild-nature enclaves:
"The completed sections of the (Cumberland Trail) pass through Frozen Head State Park in Morgan County, and crosses Hwy 27 in Wartburg at the Morgan County Visitor's Center. The trail continues on through the Catoosa Wildlife Management Area and crosses over the Obed Wild and Scenic River. Other parts of the trail cross over the Cumberland Mountains in La Follette (on McCloud Mountain) and Jacksboro, as well as the Cumberland Gap National Historic Park. The trail is designed by hikers for hikers, so it is primarily a hiking trail. It was designed and built in a way that helps to minimize the environmental impact on sensitive wildlife habitats, aquatic or terrestrial habitats, and endangered or threatened species."
Wartburg tourism development advocates anticipate that the trail will boost commerce in the town like it has in other trail towns along already established long-walk footpaths, most notably Damascus on the AT, just over the Tennessee state line in Southwestern Virginia.
"The Cumberland Trail is something we have to capitalize on," said Gunter. "That's something we've been saying for years."
Based on reports from other trail towns in the Eastern United States, Wartburg business owners and tourism promoters are hoping for a 300 percent bounce to downtown business.
"There is no question that would really mean a lot to our community," Gunter said.
Regional Reconnection
Fulcher is confident many Tennesseans will make it a mission in life to hike as much of the trail as they can — or even all of it — once it's fully open. He expects the Cumberland Trail will become an iconic recreation attraction for the state.
At any given time, any given hiker on any given trail is a day-user. But once droves of hardcore through-trekkers start voicing plaudits for the CT, proliferating packs of dedicated getaway seekers will start making plans to head for the hills, hollers, mountains, towns, timberlands and trails of Tennessee's grand plateau.
"It will become a destination for many, many people," Fulcher said.
In addition to fueling a trail-oriented commerce in some of the out-of-the-way counties on the trail itself, Fulcher predicts it will further spur outdoors-focused tourism and revenue-generation in East Tennessee's two main metropolitan hubs.
Chattanooga and Knoxville have long reaped handsome payoffs for their proximity to remarkable natural resources. Fulcher predicts the Cumberland Trail will serve as a vitalizing new artery that will pump even more recreation-oriented economic lifeblood into those favorably situated urban centers.
The potential for great benefits isn't lost on regional tourism promoters.
"There is some infrastructure that still needs to be built, but the Cumberland Trail is going to be an amazing asset for this state when it is finished," said Jenni Veal, director of the Southeast Tennessee Tourism Association. "In fact, it already is."
Fulcher also envisions that as the 21st Century progresses, "Knoxville will rediscover the Cumberland Plateau because of the Cumberland Trail."
"Knoxville actually originally developed with a much stronger connection to the Cumberland Mountains than to the Smoky Mountains," Fulcher told ExploreTRV. "Before there was Smoky Mountain National Park, money flowing into Knoxville was going to come from the Cumberland, because that is where the coal and iron and timber were.
Knoxville was founded as an industrial town "based on Cumberland Mountain connections," he said.
"Those connections are still out there -- they are just buried over. They are rusted and forgotten," Fulcher went on. "But the beauty has returned, even to those places that were highly impacted during the industrial age. A lot of America was impacted, and a lot of America has rebounded because of the care and good sense that we have had in our resource management across the country."